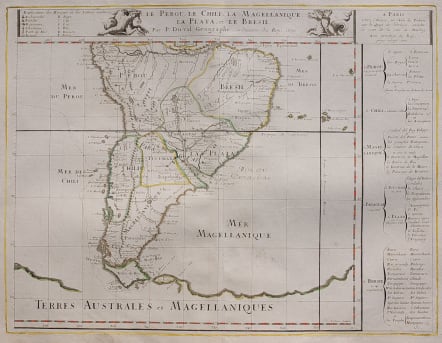 LE PEROU, LA CHILI, LA MAGELLANIQUE, LA PLATA, ET LE BRESIL
Sold
Very rare South America map...No other example of this map available anywhere and rarely found in collections; ..it was printed as one of a set of 4 western Hemisphere maps by Du Val and Ive found only one of the 4 unjoined at $15,000..but each map was printed as a stand alone map with seperate titles etc.
Covers South America from the Amazon to a fictitious southern continent. Beautifully engraved with original outline colour. Rio Janeiro..
Title with putti on sea horses.
A stunning rare map in excellent condition that would be an important part of any collection of South America
Cartographer : DU VAL Pierre
Pierre Du Val (1619-1683) was one of the most influential and prolific mapmakers and publishers working in Paris in the third quarter of the seventeenth century. He was the nephew of Nicolas Sanson, the leading French mapmaker of the period, and Geographer to the King of France from 1650. He was also responsible for providing maps for other Parisian editors of the period; Jollain, de Fer and Berey amongst others.
subscribe to our newsletter