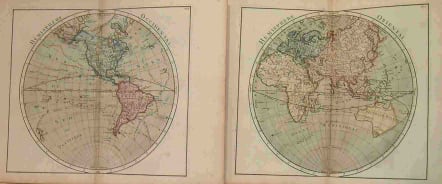 PAIR HEMISPHERE OCCIDENTAL HEMISPERE ORIENTAL
Sold
Two separate maps, showing western and eastern hemispheres. Several tracks of early explorers are shown; including Magellan, Mindana, Vaisseau, and Anson. Early hint of what was thought to be Salomon Islands. Large "Mer de l'Quest", early outline of still mostly unknown Alaska. Large "River of the West" connects Hudson Bay to west coast, oddly crossing the supposed Sea of the West. Northwest Passage suggested. Early Australia outline connected to New Guinea. Early Japan, The Great Wall partially present in China. Partial coast line of "Terre de Gama" above "d'Yesso". Both maps are full of great detail from what was known at the time, mixing in a few mythical features, such as the Mountains of the Moon as source of the Nile. Attractive full original colour. Single folds as issued, full margins.A Very attractive two Map Set. SOLD
Cartographer : Louis Brion de la Tour
Louis Brion de la Tour (1756-1823) was the Cartographer Royal to the King of France.
There is little information about his life. His official title was "King's Engineer Geographer." Although he is a prolific geographer, very little is currently known of his life or his career. His life was spent in scientific work. However what is known is an important part of his work was done in collaboration with Louis Charles Desnos (1750-1790 to) a bookseller and geographical engineer for the globes and spheres of His Danish Majesty.
His son Louis Brion de la Tour, a pupil of Jean-Bernard Restout, was engraver of maps and documents of the Revolution, and was also an occasional portrait oil paintings.
subscribe to our newsletter