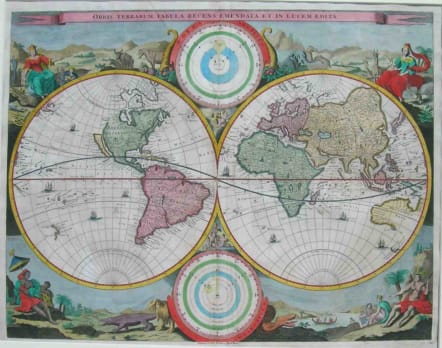 WORLD ORBIS TERRARUM TABULA RECENS EMENDATA ET IN LUCEM EDITA
£1650
World map from a Dutch bible of Daniel Stoopendael in beautiful hand colouring. The map is based on Nicolas Visscher's map of 1663. Showing double-hemisphere world map with two solar charts, one centred around the sun, the other earth-centred. Surrounded with allegorical representations of the continents. California as an island. Dutch text on verso.
Very good condition.
Reference:Shirley 498
Cartographer : STOOPENDAAL Daniel
Daniel Stoopendaal (*1672 - †1726)
Daniel Stoopendaal was born in 1672. He was active at Amsterdam between 1685 and 1713. He has drawn and etched to most famous houses and places of the Netherlands. Also he engraved maps for Dutch bibles. He died in 1726.
subscribe to our newsletter