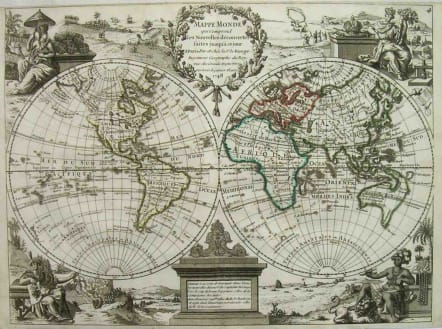 WORLD MAPPEMONDE
Sold
Title:Mappe Monde qui Comprend les Nouvelles decouvertes faites jusqua ce jour..
Decorative map of the world, illustrating all of the best mythical cartographic information of the mid 18th Century.
In the Northwest part of America, the Sea of the West and wonderful misprojection of the Northwest Coast of America are still shown, relying in part on the pre-Cook Russian Voyages of the 1740s. Nouvelle Holland (Australia) is still shown as attached to New Guinea and Van Diemen's land, forming a curious ephemeral shape characteristic of the mid 18th Century. Only a portion of the New Zealand Coastline is known. No sign of Antarctica, but the Antipodes are still mentioned, as is a mythical landfall by Drake South of Tierra del Fuego.
Decorated by female representations of the 4 continents in the corners of the image and decorative scenes and cartouches top and bottom. Several explorer's tracts shown. From Le Rouge's scarce Atlas Portatif… As noted by the State LIbrary of Queensland in its on line exhbition of the maps of the world, ( thanks BLR).Original outline colour.
Very good condition.
Cartographer : ROUGE LE Georges-Louis
Lieutenant George-Louis Le ROUGE
Lieutenant George-Louis Le Rouge (c.1712-c.1790) was born in Hanover, Germany. He became a Lieutenant in the regiment of Saxe before establishing himself as a publisher, compiler and editor of maps in Paris. He later became the "Ingenieur Geographe de Roi".
Le Rouge is particularly known for such atlas works as the "Atlas Nouveau" of 1746 and the "Atlas Nouveau Portatif ..." or the "Introduction A La Geographie" of 1756 – French publications of some merit.
Le Rouge was initially a military "Ingenieur" for fortifications and he was also a map-maker for the army and Marine Royale. He was active between 1740 and 1780, in Paris at, rue des Augustins.
subscribe to our newsletter