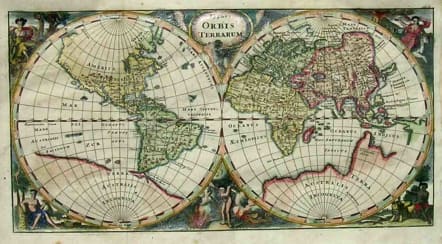 WORLD TYPUS ORBIS TERRARUM
Sold
Very attractive double hemisphere map with the peninsular form for California and a huge Terra Australis Incognita. The corners are decorated with the female representations of the four continents. Tucked between the cusp at bottom is the figure of Atlas holding the world on his shoulders. Very good impression with excellent hand colour finished in egg white.Excellent condition with good margins.
From Introductio in Universam Geographicam…
References: Shirley #586.
SOLD
Cartographer : CLUVER Philipp
CLUVER, Philipp
1580-1622
Cluver was born in Danzig and after studying at Leyden and Oxford, he became interested in modern and historical geography; his subsequent publications made a wide and influential contribution to knowledge of the subject.
Philip Cluvers Introductonius was a popular geography book, first published in 1624 without maps. There were many editions throughout the 17th and 18th centuries with maps from several sets of plates.
subscribe to our newsletter