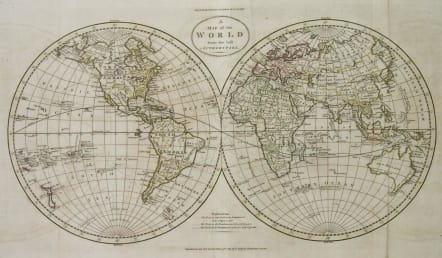 WORLD A MAP OF THE WORLD FROM THE BEST AUTHORITIES
Sold
The 1785 larger world map.
Detailed map of the World, showing tracks of Captain James Cook in his 3 voyages in great detail. The map is extensively annotated with information on the explorations of a number of regions on the map in the 1770s, primarily deriving from Cook. New Zealand is shown. Australia retains it's a mostly conjectural mid-18th Century Coastline. No sign of Antarctica. Fascinating transitional mapping of Alaska and NW America.
Reinforcement of fold otherwise good condition.
SOLD
Cartographer : GUTHRIE William
Atlas Universel pour la Geographie de Guthrie reengraved by Blondeau
subscribe to our newsletter