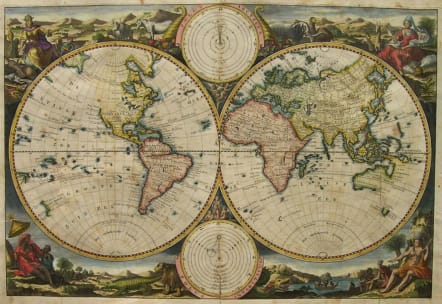 WORLD
Sold
Interesting Stoopendaal map in that there is no title on map.The map is based on Nicolas Visscher's map of 1663. Showing double-hemisphere world map with to solar charts, one centred around the sun, the other earth-centred. Surround with allegorical representation of the continents. California as a peninsular.Good hand colour.Reinforcement to folds on back,and a few marks othzerwise good and certainly well priced.
SOLD
Cartographer : STOOPENDAAL Daniel
Daniel Stoopendaal (*1672 - †1726)
Daniel Stoopendaal was born in 1672. He was active at Amsterdam between 1685 and 1713. He has drawn and etched to most famous houses and places of the Netherlands. Also he engraved maps for Dutch bibles. He died in 1726.
subscribe to our newsletter