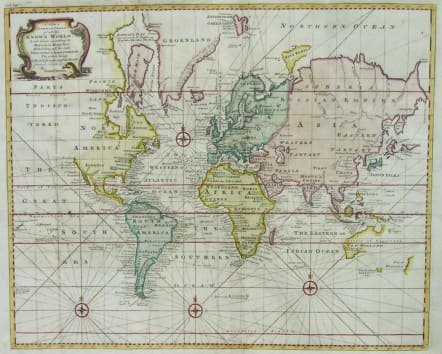 WORLD A NEW & CORRECT CHART OF ALL THE KNOWN WORLD
Sold
This attractive sea chart is filled with rhumb lines and compass roses. The northwest coast of North America is left blank and noted as Parts Undiscovered. Australia is misshapen and connected to Van Diemens Land with indistinct eastern and southern coastlines. New Zealand is mapped only on the west coast with no evidence of two islands. Near Japan, an odd piece of coastline is named as De Gama's Land with a small island nearby claimed as Company's Land.
From Navigantium atque Intinerantium: Or, A Compleat Collection of Voyages.
Excellent hand colour.Very good conditions
Cartographer : Emanuel BOWEN
Emanuel Bowen (c.1693/1694-1767) was an English engraver, publisher and mapseller active in London between 1720 and 1767. His prolific output as engraver and publisher earned him recognition both in England and France, for he held the dual appointment of Engraver to George II and to Louis XV of France.
Bowen engraved large numbers of maps for general atlases, geographical text-books and periodicals, particularly The Complete System of Geography, the Universal History of the World, the small-format periodical The General Magazine of Arts and Sciences and the Complete Atlas.
Bowen also produced a large number of English county maps. His earliest known publication was a series of road maps of England and Wales, the Britannia Depicta, with a map of each county, produced in partnership with John Owen in 1720 (the Owen and Bowen maps). This series was very popular, being frequently re-issued up to 1764 and was the most successful successor to John Ogilby's renowned road book.
subscribe to our newsletter