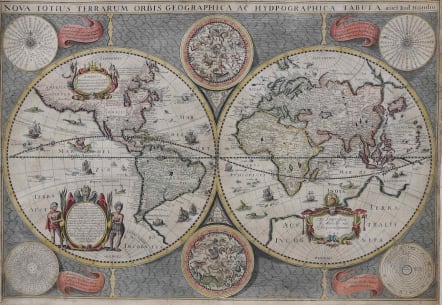 WORLD MAP NOVA TOTIUS ORBIS GEOGRAPHICA
Sold
Very Rare World Map.
Full title : Nova totius terrarum orbis geographica ac hydpographica tabula auct: Jud. Hoondius
by MARIETTE (Pierre);HONDIUS (Jodocus)
The map is based on Hondius"s 1617 world map.
The map depicts the discovery of the Le Maire Strait at the tip of South America. In North America, the St. Lawrence River runs nearly the entire width of the continent, terminating in a large lake not far from the infamous Civolo 7 citta (7 cities of Cibola). Hudson Bay is depicted after the work of Gerritsz. In Asia, Korea is shown as an island, the northern coast of New Guinea is more properly located and there is a large Terre Australle Incognue with Boach named in the region of the Australian continent. The surrounding engravings include a pair of celestial charts, circular diagrams containing the compass points, the names of the winds, the climatic zones, the heavenly orbits and a thirty-year calendar. The map is richly adorned with a variety of decorations including three cartouches, each with figures, numerous sailing ships, sea monsters, flying fish and a depiction of Neptune. This is the first state with Mariette's imprint.
The map has been archivally backed. Excellent hand colour. Overall very good condition.
Shirley, 358.
I Have found only one example available at 8,000 euros
Cartographer : HONDIUS Family
Jodocus Hondius I(1563-1612) was one of the foremost map engravers of his day; he worked for many Dutch publishers and was also employed by the English map- and print-sellers, Sudbury and Humble, to engrave the maps for John Speed's "The Theatre Of The Empire Of Great Britaine", published in 1612. Hondius married Coletta van den Keere (sister of Pieter van de Keere - also heavily involved in the map trade) thus strengthening his links with the map world at this time.
Hondius bought the copperplates of Mercator's "Atlas Sive Cosmographicae ..." at the auction of Gerard Jr.'s effects in 1604. He added another forty maps, including new maps of the continents and important regional maps of the Americas, before publishing a new edition of the "Atlas ..." in 1606 that was in direct competition with Ortelius' "Theatrum". As many of Hondius' maps were more up-to-date, the Mercator-Hondius "Atlas ..." effectively superseded Ortelius' "Theatrum".
Jodocus also had the plates of the "Atlas ..." reduced at this time in order to publish them in the "Atlas Minor" that first appeared in 1607. Cornelis Clasz and Johannes Janssonius of Arnhem (the elder Janssonius) were the publishers involved in this 'miniature' endeavour.
Henricus and Jodocus II were sons of Jodocus I. From 1619 the "Atlas ..." was published under the Henricus Hondius imprint. Henricus appears to have been heavily involved in the "Atlas ..." from 1619 until 1633 when his brother-in-law's name and imprint, that of Johannes Janssonius, also started appearing on the "Atlas ..." After 1636 the name of the "Atlas ..." was changed to "Atlas Novus" with Janssonius being responsible, in the main, for its publication.
subscribe to our newsletter