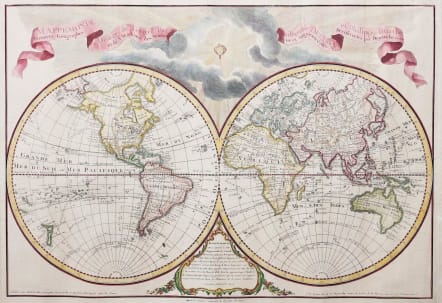 Mappemonde a l'Usage de l'Instruction Par Guillaume Delisle et Philippe Buache
Sold
Very attractive large Hemispheres World map.
Dezauche, the successor to the Delisle cartographic firm, issued this impressive large double hemisphere map based upon the work of both Delisle and Bauche. The map shows well formed continents with the latest discoveries described in the cartouche at bottom. The western portion of North America is still largely blank but Alaska is shown in a rudimentary shape based on the discoveries of Captain Cook. Austalia and New Zealand also reflect the discoveries of Captain Cook, whose routes are traced throughout the map, including several landfalls in Antarctica. The large title is in ribbon form, with a sun and clouds covering the upper portion of the map, and a decorative advertisement cartouche at bottom with the date from the French Republican calendar, An 9 1798
Printed on heavy paper and unusually printed seperately as no centre fold.
Excellenty hand colour.
Very good condition.
Inherited De L'ISles plates and reissued his famous Atlas.
subscribe to our newsletter