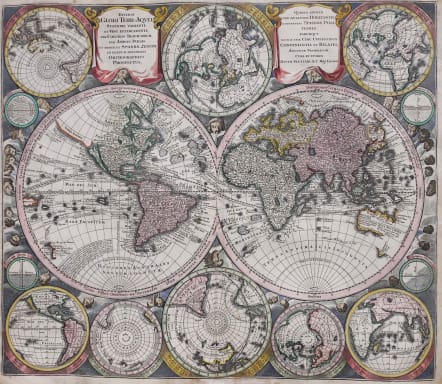 DIVERSI GLOBI TERR-AQUEI STATIONE VARIANTE..
Sold
Full title: DIVERSI GLOBI TERR-AQUEI STATIONE VARIANTE ET VISU INTERCEDENTE PER COLUROS TROPICORUM PER AMBO POLOS
A very good example.
This is one of the most graphic 18th century world maps. The bold engraving style follows Carel Allard's map of 1696 with the central twin hemisphere map surrounded by several smaller maps on various projections. California is an island and is shown five times on the sheet. In Asia, Japan is depicted in a bizarre shape that incorporates Terra Yedso (Hokkaido). The coastlines of Australia and New Zealand are beginning to take shape, and New Guinea is shown twice - once in each hemisphere. The map is filled with detail including the tracks of several explorers. The maps are set in a richly engraved background of clouds with numerous wind heads, lesser spheres and two cartouches.
Excellent original colour.
Very good condition
Cartographer : SEUTTER Family
Besides the Homanns, the other great German publishers of the eighteenth century were the Seutter family. Mattheus Seutter the elder (1678-1757) was apprenticed to Johann Baptist Homann in 1697 in Nuremberg, but left to settle in Augsburg where he established his own business publishing atlases, including the "Atlas Geographicus" (1725) and "Grosser Atlas" (circa 1735). Seutter's style was heavily influenced by Homann, with distinctive similarities appearing in his maps. He was joined in the business by his son, Albrecht (1722-1762), who continued the firm in partnership with Tobias Conrad Lotter (1717-1777) on his father's death.
subscribe to our newsletter