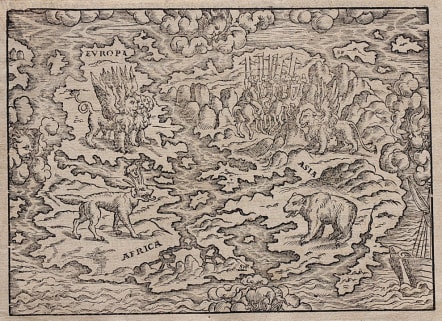 DANIEL'S DREAM
Sold
Rare and highly collectable world map. This map appears to be version 9 of Daniels dream maps, albeit slightly larger than the 1566 version. Sigmund Feyerabend's initials are in island north of asia.
The dream embodied in the map is that of the fifth century B. C. prophet Daniel, who envisioned the fate of history's great empires as personified by various beasts depicted on the map. In 1529 and 1530, in commentaries by Martin Luther and others, the map was used both as an emblematic warning of Turkish conquest of the west and a foretelling of their defeat. In this period of great anxiety with Turkish armies out just outside of Vienna, Luther and others reached deeply into the Bible to extract something that would restore hope by foreshadowing the eventual victory of Christendom.
Gallner in his excellent and thorough online study of the map cites its first appearance as being in pamphlet 1529. The first entry for the map in Shirley is not until 1530, though he states it could have first come out in 1529. Both versions were published by Hans Lufft.
The map is in excellent condition although it lacks the bible text.
http://www.daniels-dream-map.com/index.htm
http://www.daniels-dream-map.com/details_page9.htm
subscribe to our newsletter