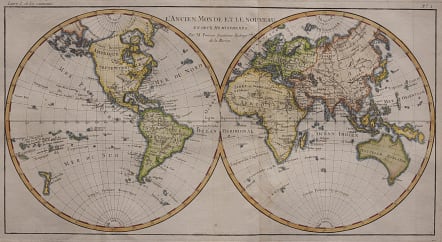 L'ANCIEN MONDE ET LE NOUVEAU
Sold
Full Title: L'Ancien Monde et le Nouveau en deux Hemispheres. Par M. Bonne, Ingènieur-Hydrographe de la Marine.
Attractive double hemisphere world map. In North America, the United States is named and confined along the eastern seaboard. The entire western region is blank with the only place name being Cape Mendocino. There is a large group of islands in the North Pacific including Alaschka in the vicinity of Alaska. Tasmania is attached to Australia and both islands of New Zealand are depicted.
Printed on good heavy paper.
V good hand colour.
Very good condition.
Cartographer : BONNE Rigobert
Rigobert Bonne (1727-1795), a prolific French cartographer, was active between about 1760 and 1788, working in the French Hydrographical Office, and appointed as Hydrographer to the French King.
Bonne prepared a large number of charts, some of which appeared in the Atlas Maritime. Today, he is best known for the smaller maps that he prepared for Raynal's Atlas de Toutes Les Parties Connues du Globe Terrestre, published in 1780, and the Atlas Encyclopedique, published in conjunction with Nicholas Desmarest. Although the maps are relatively plain, dispensing with the decorative embellishment of mid-century, they are detailed and provide good coverage of newly discovered regions.
subscribe to our newsletter