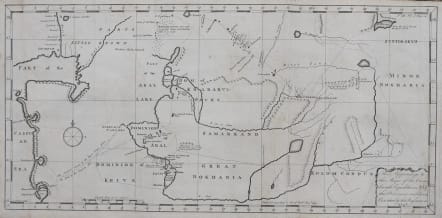 INDEPENDENT TARTARY
Sold
Title: The Appendage to the Maps of the Orenburg Expedition. No 1. The Provinces in Siberia. No2. As taken by the Russians in 1747.
Routes with references to the Orenburgh Expedition.
Orenburg Expedition an expedition mounted in 1734 for the purpose of building a system of forts on the border with Bashkiria. It was planned by I. K. Kirilov, chief secretary of the Senate and the expedition's leader.
Rare map in good condition.
REF http://digital.library.unt.edu/ark:/67531/metadc29425/
Cartographer : John GIBSON
John Gibson, contemporary to Bellin and Bonne, was an important British cartographer of the late 18th century. He produced thousands of maps and was noted as a skilled engraver and sculptor. Gibson's most important work is the pocket sized 1758 Atlas Minimus. Gibson unfortunately was not as astute in his personal life as he was with the engravers pen and spent much of his life in and out of debtor's prison.
subscribe to our newsletter