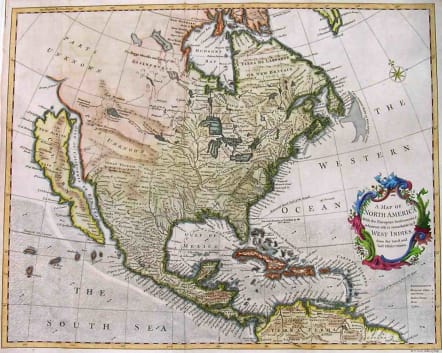 NORTH AMERICA CALIFORNIA AS ISLAND A MAP OF NORTH AMERICA WITH THE EUROPEAN SETTLEMENTS & WHATEVER ELSE IS REMARKABLE IN Ye WEST INDIES
Sold
Superb North America with California as an Island.
While the map shows a very large and very late example of an insular California, it is equally if not more fascinating for its marvelous treatment of the Mississippi Valley, Great Lakes and Transmississippi West treatment. The mapping of the Mississippi and its tributaries is extremely detailed and includes a number settlements. Nevertheless, it retains the exotic treatment of the source of the River as a series of Western Canadian Lakes, the last of which lists Indian Towns on its Islands. The treatment of the Red River and Missouri River are also unusual. Seale's A New Map of North America wherein is exactly described all ye European Settlements with whatever else is remarkable in the West Indies (c. 1756, 1776) made use of Popple's map selectively for parts of the total area covered.Excellent hand colour.Very good condition.
References: McLaughin 228
Cartographer : Seale, Richard
Richard William Seale (d.1785, fl.1732-1772) was a well-known engraver and draughtsman working in London. His work is often encountered in the maps from Tindal's continuation of "Rapin's History Of England" (1744-1777). The atlas primarily contains maps depicting the military actions fought by the English during the campaigns of the War of the Spanish Succession, notably in the Low Countries, but also in Spain, and was also supplemented by a series of contemporary maps, of the countries of the British Isles, and parts of the wider world. Seale also contributed to a large number of other books, magazines and atlases of the period – the "London Magazine" and the "Universal Magazine".
subscribe to our newsletter