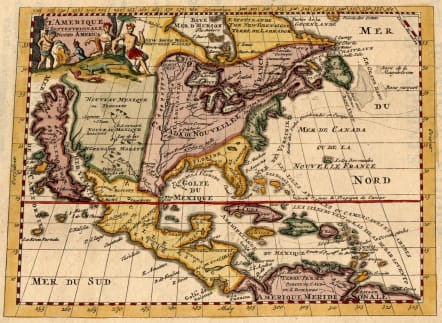 L'AMERIQUE SEPTENTRIONALE NOORD AMERICA
Sold
A superb rare map of North America showing California as a hugh island stretching as far north as Alaska. The Mississippi River is set far to the west of its actual location with the Rio Bravo or Rio Norte (today's Rio Grande) depicted as a tributary. Attempts to detail the course of the Mississippi quite far inland and includes several known forts along the river as well as a Ohio (Ochio) River branching off far to the south of its actual location. Sante Fe is shown far north of its true site. Just to the south of Santa Fe, in what is today Utah, there is an interesting notation of a "Lac de las Saliaas", though no actual lake is shown, probably an early reference to the Great Salt Lake which was not officially "discovered" by Europeans until 1776. The allegorical title cartouche in the upper left corner features several American Indians tending a fire, an alligator and a snake. Excellent old colour.
Very good condition.
References: McLaughlin 174.
Cartographer : LA FEUILLE Daniel
Daniel de La Feuille (1640 - 1709) was born of Huguenot stock in Sedan , France. There he was apprenticed as a watchmaker. In 1663 he married Charlette Marlet, the daughter of a local carpenter. Twenty years later, in 1683, facing religious prosecution of Huguenots in France, the family fled to Amsterdam. By 1686 Daniel had become a burgher (citizen) of the city and established himself as a engraver, publisher, and art dealer. Not long after, in 1691, he was admitted into the Booksellers Guild. Though we are primarily concerned with his cartographic work here, his masterpiece is considered to be Devises et emblems, a collection of symbols and designs mostly likely intended as templates for silversmiths, engravers, and watchmakers. His cartographic work includes numerous individual maps and atlases, many of which continued to be published and republished well after his death in 1709. He was succeeded by his sons Jacob de la Feuille (1668 - 1719) and Paul de La Feuille (1688 - 1727)
subscribe to our newsletter