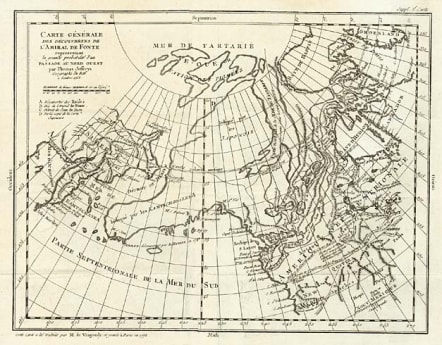 CARTE GENERALE DES DECOUVERTES DE L'AMIRAL DE FONTErepresentant PASSAGE AU NORD OUEST
Sold
Interesting map of the NW Coast of America and the NE Coast of Asia, based upon Jefferys map of 1768. Prior to Cook's 1st Voyage, the English, French and Russians were actively debating the cartography of the region in the North Pacific between Asia and North America. The Russian explorations of the first half of the 18th Century, including those by Behring, Tchirikow and others, had been reported by JN De L'Isle, who had worked with the Russians and was privy to their latest discoveries. The mythical voyages of De Fuca, d'Aguilar and De Font were still very much in evidence in contemporary cartography, as were concepts of a NW Passage, the Sea of the West, River of the West and other vestiges of 16th and 17th Century conjectural/mythical cartography.This map shows the Jefferys model, including a wide De Fuca based River from Puget Sound to the Atlantic over Hudson's Bay, several significant rivers flowing from the Pacific to the middle of North America, and Jesuit based water passages from the Pacific to the Arctic Seas. A massive approximation of Alaskan Archipelago is shown, along with the Russian discoveries.Uncoloured as issuedand in perfect condition. Wagner 637; Pedley 454.
Cartographer : VAUGONDY ROBERT DE Family
The Robert de Vaugondy family responsible for map and globe publishing in Paris comprised Gilles Robert de Vaugondy (1688-1766) and Didier Robert de Vaugondy (1723-1786). The father (Gilles) and son (Didier) business flourished from 1731 to 1778.
Prominent at this time among French map-makers were the Robert de Vaugondy family, who made a substantial contribution to the eighteenth century world of cartography, through the breadth and success of their prolific output, which included atlases, maps, globes and book illustration.
While only a small part of their output, the "Atlas Universel" encapsulates the diligent and scientific approach adopted by the Roberts de Vaugondy, and proved to be the most successful French world atlas of the period. It appeared from c.1757 onwards.
subscribe to our newsletter