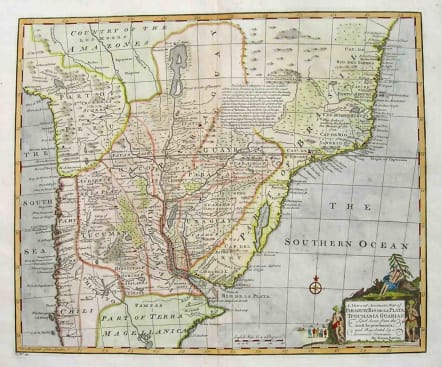 A new and accurate map of Paraguay, Rio de la Plata, Tucumania, Guaria &c. Laid down from the latest improvements, and regulated by astronomical observations.
Sold
(London: Printed for William Innys, Richard Ware, Aaron Ward, J. and P. Knapton, John Clarke, T. Longman and T. Shewell, Thomas Osborne, Henry Whitridge ... M.DCC.XLVII).
An uncommon and very detailed map of the region with a wealth of detail depicting towns,villages,rivers tribes and Missionary settlemants in the middle of the eighteenth century.Decorative cartouche.Excellent hand colour.Very good condition.
Rumsey Reference: cf P-Maps, p. 799 (1752 ed.); NMM p.356; M&B p 166.
Cartographer : Emanuel BOWEN
Emanuel Bowen (c.1693/1694-1767) was an English engraver, publisher and mapseller active in London between 1720 and 1767. His prolific output as engraver and publisher earned him recognition both in England and France, for he held the dual appointment of Engraver to George II and to Louis XV of France.
Bowen engraved large numbers of maps for general atlases, geographical text-books and periodicals, particularly The Complete System of Geography, the Universal History of the World, the small-format periodical The General Magazine of Arts and Sciences and the Complete Atlas.
Bowen also produced a large number of English county maps. His earliest known publication was a series of road maps of England and Wales, the Britannia Depicta, with a map of each county, produced in partnership with John Owen in 1720 (the Owen and Bowen maps). This series was very popular, being frequently re-issued up to 1764 and was the most successful successor to John Ogilby's renowned road book.
subscribe to our newsletter