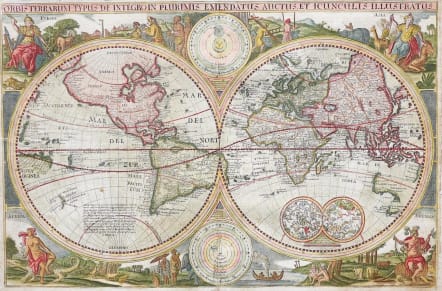 WORLD ORBIS TERRARUM TYPUS DE INTEGRO IN PLURIMIS EMENDATUS
£1750
Orbis Terrarum Typus De Integro In Plurimis Emendatus Auctus Et Icunculis Illustratus
A scarce antique world map in two hemispheres being a close copy of Visscher's world map from the Ravesteyn Bible, dated 1657. Whilst the title is exactly the same, this engraving lacks any reference to its author. A significant difference between the two engravings is the fact that this map contains the outline of the western coast of New Zealand.
Very good hand colour.
Margin extended right hand side * All printed surface there no repairs.,Centrefold,.Very good condition.
Ref: Shirley 'The Mapping of the World, Entry 414', Scarce.
Among the many great Dutch map publishers active in the seventeenth century were the Visscher family; the firm was begun by Claes Jansz Visscher (1587-1652), and subsequently included his son Nicolaas (1618-1679), grandson Nicolaas II (1649-1702) and then his grandson's widow, Elizabeth, until her death in 1726.
Although mainly art dealers, the Visschers were prolific publishers, producing individual maps and also atlases made up to their customers' specifications. Indeed, they are commonly regarded as second only to the Blaeus among Dutch map-makers for the high quality of engraving and decoration and the geographical accuracy of their many maps. Particularly outstanding - not only as maps but as works of art - are their world maps.
subscribe to our newsletter