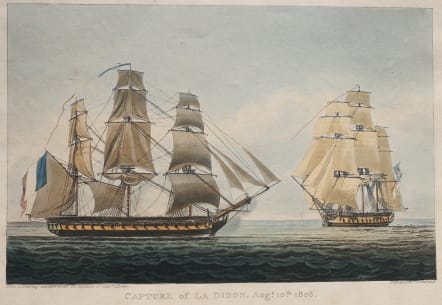 MARINE CAPTURE OF LA DIDON AUGt.10th 1805
Sold
Superb aquatint plates from The Naval Achievements of Great Britain, 1793 to 1817. The book illustrates the naval combat of man-of-war ships between Great Britain and foreign countries including France, Spain, Denmark and the United States. Many of the prints feature the epic naval struggle of the Napoleonic War.
The Plates were generally engraved by T.Sutherland from drawings by Thomas Whitcombe (1763-1824).
Original hand-colored aquatint engravings in excellent condition.
REF: Abbey Life 337; Tooley 282.
subscribe to our newsletter