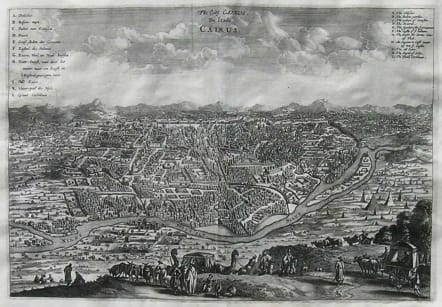 CAIRO THE CITI CAIRUS DE STADT CAIRUS
£250
Striking copper engraving providing a bird's-eye view of the city and surrounding countryside, which includes a depiction of the pyramids. The city is viewed from above the west bank of the Nile with the foreground filled with travelers, donkeys, camels and oxen. The view is taken for the most part from Matteo Pagono's view of the city in 1549, which was in turn the basis of Braun and Hogenberg's view. Dapper's important Description of Africa was one of the most important seventeenth century works about the continent.
Wide margins Very good condition.
Cartographer : OGILBY John
John Ogilby (1600-1676) had a variety of colourful careers (not invariably ending in disaster) before he embarked on a career as a surveyor and cartographer. "Tooley's Dictionary Of Mapmakers" suggests he was a dancing master, poet, translator, historian, printer, publisher, Royal Cosmographer (1671), Master of the King's Revels in Ireland, founder manager and director of Dublin's first theatre and surveyor to the City of London, amongst others.
subscribe to our newsletter