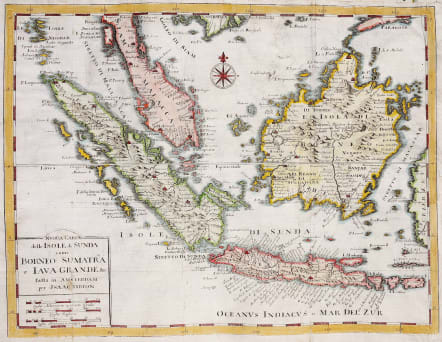 NUOVA CARTA DELLE ISOLE DI SUNDA ....
Sold
Attractive and very detailed map of Southeast Asia, extending from the tip of Cambodia to Java, centered on Singapore and the Straits of Malacca.
Lots of place names and topographical detail.
Compass rose. Good hand colour;
Folds as issued.
Rare map in very good condition.
Cartographer : Isaac TIRION
Isaac Tirion (c.1705-c.1769) was born in Utrecht. He became a prominent bookseller and publisher with premises on the 'Kalverstraat' in Amsterdam and was also to become a member of the board of the booksellers' guild. He was responsible for a large number of atlases and books with maps.
subscribe to our newsletter