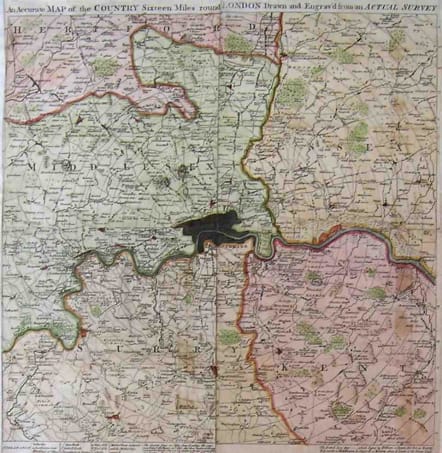 LONDON AN ACCURATE MAP OF THE COUNTRY SIXTEEN MILES ROUND LONDON
£225
This is a rare and unusual c. 1764 Map of London, England and the environs sixteen miles around. Published by Gentleman's Magazine in four separate issues with publisher's instruction on how to bind them into a single map. Covers the London area in considerable detail with good references to churches, "Gentlemen's Seats", buildings villages, Water Mills and Wind mills. Altogether fascinating references show market towns and indicates the days when the markets are active – a practice common in rural areas but rarely seen in London today. A rare and wonderful insight into old-time London.
Excellent hand colour.
Very good condition.
References: Jolly, David C., Maps in British Periodicals, GENT-176. Howgego, James L., Printed Maps of London circa 1553-1850, 103a.
See Emanuel Bowen
Thomas Bowen (?? - 1790) On Emanuel Bowen's death, his cartographic work was taken over by his son, Thomas
subscribe to our newsletter