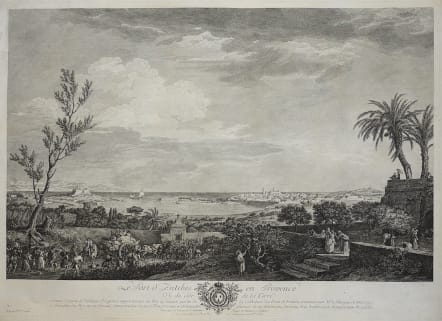 LE PORT D'ANTIBES EN PROVENCE
£1395
Superb and now v. rare large elephant folio engraving by Cochin from Vernet.
From the Series Ports De France.Claude-Joseph Vernet's greatest commission was a series of pictures of the ports of France (Paris, Musee de la Marine).
Galleons in the harbour, Fort Carre .The Fortified town of Antibes with the Cap Behind.
Figures in foreground.
This is a fine example of the quality of French Eighteenth century engraving.
Antibes is one of the rarer and most sought after. Uncoloured as issued.
Very good condition.
Highly recommended.
Cartographer : Vernet Cochin
subscribe to our newsletter