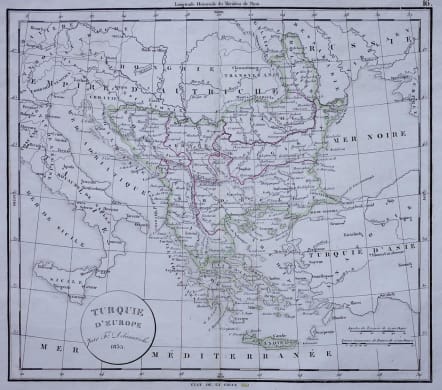 TURQUIE D'EUROPE
£40
Attractive copper engraved map of the western part of the Ottoman Empire in its heyday. by Delamarche Fils.
Original outline colour
Very good condition.
Cartographer : DELAMARCHE Charles Francois
Delamarche , Charles François
1740-1817
Founded by Charles François Delamarche who entered the globe industry as successor to the Robert de Vaugondy family of map and globe makers to King Louis XVI.
Delamarche obtained the shops of many of his local competitors, which enabled him to produce globe models in many different sizes. He also republished many Robert de Vaugondy maps and globes.
Charles worked with Charles Dien, a cartographer. In 1817 Felix Delamarche (1817-1847, son of Charles, took over the business which stayed in the family until 1847, when taken over by Grosselin.
subscribe to our newsletter