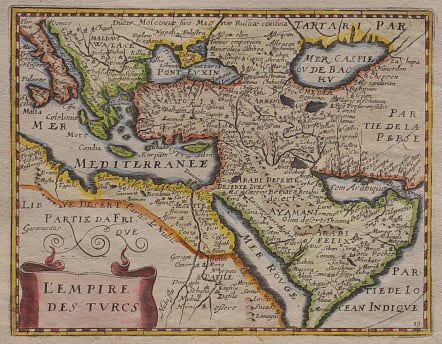 L' EMPIRE DES TURCS
£285
Rare map of the the Turkish Empire and neighbouring regions, which appeared in Picart's Tresor des carte Geographiques, published in Paris.
One of the very few maps that calls the Persian Gulf The Sien Arabique..!
Picart's map is based upon Jansson's map, published in his Atlas Minor in 1628. The first French version of the map was published by Jean Boisseau in 1643, followed by this rare map by Picart, first published in 1651. This is the 1667 Jollian edition of the map with the distance bar erased .
Good hand colour.
Very good condition
**According to Raremaps "The map is extremely rare, with no appearances in AMPR in the past 30 years" ***
Cartographer : Picart Jollian
subscribe to our newsletter