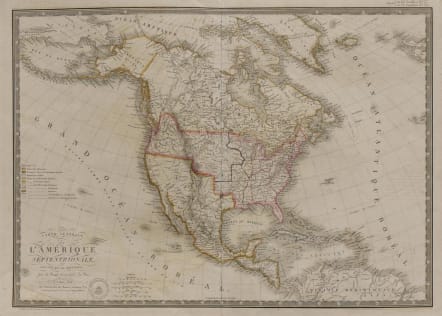 CARTE GENERALE DE L'AMERIQUE SEPTENTRIONALE
£195
Very attractive map of North America, exhibiting early details of Lewis & Clark's expedition and up to date information on the search for a northwest passage. Alaska Russian. California still Mexico and Canadian USA border not finally fixed.
There are two Salt Lakes, each linked by Rivers to the Pacific Ocean and each other. Lots or early Indian detail and a fabulous treatment of the drainage system of the Upper Mississippi, Missouri and Columbia Rivers, likely one of the most advanced of the era. The region immediately west of the Mississippi retains the various Spanish regional names, including St. Louis, Cape Girardeau, Lawrence, etc. Missouri and Columbia Territories dominate the Western US claims. Early naming of the Yellowstone River. California Missions are named. Dark impression and wide margins.
Very good condition.
REF RUMSEY~8~1~33959~1170111
Cartographer : BRUE Adrien
Adrien Hubert Brue (1786-1832) was an important French geographer and publisher at the 'rue des Macons-Sorbonne'. He held the titles of 'Geographe du roy' and also 'Geographe de son Altesse royale Monsieur le comte d'Artois'.
subscribe to our newsletter