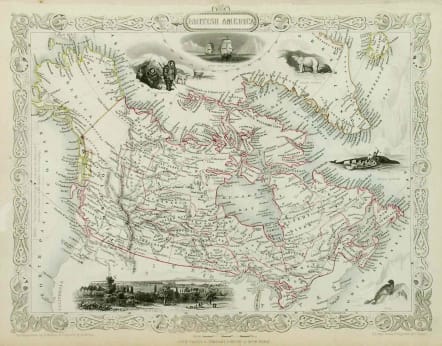 BRITISH AMERICA
Sold
Good decorative Tallis map of Canada.. Extends from Russian America ( Alaska ) east as far as Greenland and Iceland. Features numerous decorative vignettes typical of Rapkin / Tallis work including a seal, whale fishing, the exploring ships Fury and Recla, a polar bear, some Esquimaux (Eskimos) and a view of Montreal. The illustrations are by H. Warren and engraved by R. Wallis; the map is drawn and engraved by J. Rapkin. Published by the John Tallis & Company, London & New York in 1850-1852.
Very good condition.
Cartographer : Tallis John
TALLIS, John
active 1838-1851
John Tallis founder of Tallis and Co., London map publishers who traded under various names: L. Tallis, Tallis & co, John Tallis, John Tallis & co. (London & New York) between 1838 and 1851. After 1850-51, their maps were published by the London Printing and Publishing Co., London and New York.
The Illustrated Atlas of the World, published in 1849 with the maps and decorative vignette's engraved and drawn by J. Rapkin, was one of the last atlases to be truly decorated and is therefore highly prized.
subscribe to our newsletter