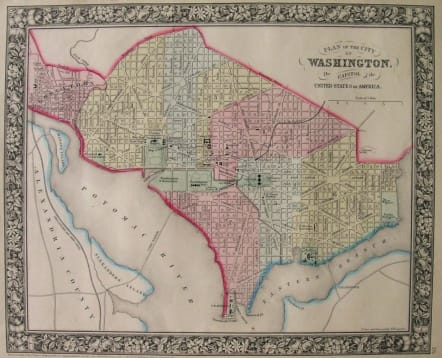 WASHINGTON A PLAN OF THE CITY OF WASHINGTON
£165
A rare 1861 Map of Washington D.C. by American map publisher S. A. Mitchell Jr. Depicts the city shortly following Lincoln's assassination. Important buildings such as the capitol, the Arsenal, the Smithsonian Institute, the White House, etc. are individually drawn in and labeled. Includes Georgetown. Based upon the original plan of Washington D. C. developed by French architect Pierre-Charles L'Enfant . Dated and copyrighted: "Entered according to act of Congress in the Year of 1861 by S. Augustus Mitchell, Jr. in the Clerk's Office of the District Court of the Eastern District of Pennsylvania.
Mint condition.
References: Phillips, 1026.; Rumsey, 2483.019.; Ristow, Walter. American Maps and Mapmakers p. 303, 315.
Cartographer : Samuel Mitchell
A resurgence of atlas production in North America during the 1840s and 1850s reflected an emerging mass market fuelled by prosperity and mobility. Samuel Augustus Mitchell was one of the proponents of this; his "New Universal Atlas" was first published in 1846 and was issued periodically until 1893.
subscribe to our newsletter