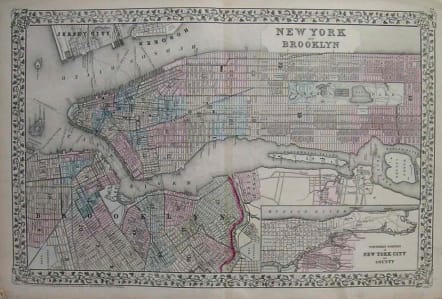 NEW YORK NEW YORK AND BROOKLYN
Sold
Mitchell's superb double-page size map of New York City which encompasses most of Manhattan (including Central Park) and part of Brooklyn. This map of New York City encompasses Manhattan south of 116th Street, the northwestern section of Brooklyn (Greenpoint, Brooklyn Heights and a small section of Prospect Park) and parts of Queens along the East River (Long Island City, Astoria and Ravenswood). Also included are Governors Island, Wards Island and Blackwells Island (now known as Roosevelt Island). Central Park, prominently featured here, was officially established in 1853, and was substantially landscaped and developed by the mid 1860s. An inset map in the lower right labeled "Northern Portion of New York City and County" shows Upper Manhattan and the South Bronx. The map shows streets, avenues, slips, docks, ferry routes, steam boat routes, parks and important buildings. It has outline and full color shading and is set within an attractive vine leaf border.
Original colour.Very good condition.
Cartographer : Samuel Mitchell
A resurgence of atlas production in North America during the 1840s and 1850s reflected an emerging mass market fuelled by prosperity and mobility. Samuel Augustus Mitchell was one of the proponents of this; his "New Universal Atlas" was first published in 1846 and was issued periodically until 1893.
subscribe to our newsletter