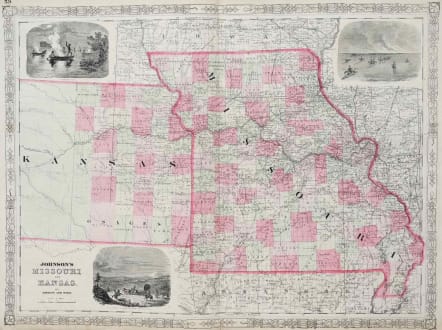 JOHNSON'S MISSOURI AND KANSAS
£95
Decorative large folio map of Missouri and Kansas, hand colored by counties, published by Johnson & Ward.
Includes large decorative vignettes of a fire on the prairie with horse mounted Indians, the Santa Fe Trail and spear fishing Indians. Shows towns, counties, townships, roads, railroads, rivers, forts, Indian Tribes, etc. A detailed early map of Missouri and Kansas at an important time in the development of both states. The period just after the Civil War was a time when many were moving from the east to the plains and beyond, and Missouri was often their starting point. This map shows the many roads, trails and railroads in the region, including the Santa Fe trail. The state of Kansas is particularly interesting in showing significant development in the east, but very little to the west.
Very good condition.
American publisher of Atlases
subscribe to our newsletter