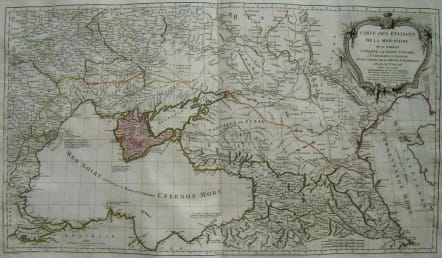 BLACK SEA CARTE DES ENVIRONS DE LA MER-NOIRE
£575
Full title: Charles Francois Delamarche: Carte Des Environs De La Mer-Noire ou se trouvent L'Ukrayne, La Petite Tartarie, La Circassie, La Georgie, Et Les Confins De La Russie Europeenne, Et De La Turquie.
Hiighly detailed two sheet map of the region from Poland, the Ukraine and the Black Sea in the West to the Caspian Sea in the East.
One of the greatest maps of the Black Sea and the Caucasus.
Rare map published for Le Duc de Choisseul who was secretary of state.The French wanted to ally with Russia to dismember Ottoman Empire and France set up a trading company in the Crimea to export timber and copper for French navy.Le Duc went on to become Ambassador to Constantinople.Here he inititiated one of the great maps of the city (see my Turkey maps).
Includes large decorative cartouche. Engraved by Dussy from geographical information by De Vaugondy.
2 sheets joined.Very good condition.
References: Pedley #379.
Cartographer : DELAMARCHE Charles Francois
Delamarche , Charles François
1740-1817
Founded by Charles François Delamarche who entered the globe industry as successor to the Robert de Vaugondy family of map and globe makers to King Louis XVI.
Delamarche obtained the shops of many of his local competitors, which enabled him to produce globe models in many different sizes. He also republished many Robert de Vaugondy maps and globes.
Charles worked with Charles Dien, a cartographer. In 1817 Felix Delamarche (1817-1847, son of Charles, took over the business which stayed in the family until 1847, when taken over by Grosselin.
subscribe to our newsletter