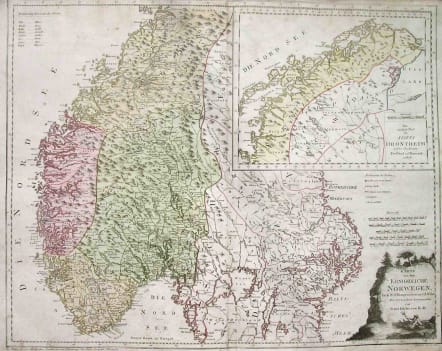 NORWAY KARTE VON DEM KONIGREICHE NORWEGEN
£265
This large copper-plate engraved original antique map of Norway with parts of Sweden - with an inset map of Lapland - was engraved in 1796 - the date is engraved at the foot of the map - and was published by Franz Joseph Von Reilly in his 1794-96 Grosser Deutscher Atlas. Printed on heavy paper.All original colour.Very good condition.
Cartographer : REILLY VON Franz Johann Joseph
Austrian born Franz Johann Joseph von Reilly (1766-1820) produced over 830 maps for his great atlas project, "Schauplatz der funf Theile der Welt" between the years 1789 and 1806. Of these 830 maps published over this time span of seventeen years, he 'showcased' but one part of the world, Europe. Maps of the other four continents remained unpublished. The maps of the "Schauplatz ..."were drawn to a uniform criteria.
Reilly's "Grosser deutscher Atlas" was also notable as the first completely 'Austrian' atlas. This large world atlas, containing relatively few maps, was issued between 1794 and the end of 1796. Reilly may have used Franz Anton Schraembl's work as his model, at least in part.
subscribe to our newsletter