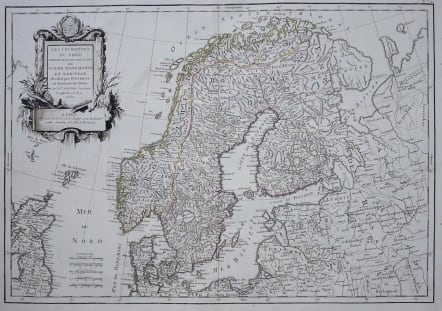 LES COURONNES DU NORD
Sold
Attractive example of Janvier's 1762 decorative map of Scandinavia. Covers from Iceland and England eastward as far as Moscow, north to the Arctic Sea, and south as far as Denmark and Germany. Includes the modern day nations of Sweden, Denmark, Norway, and Finland. Identifies towns, cities, rivers, mountains, and some undersea features. Of particular interest is the legendary Lofoten Maelstrom in northwestern Norway. This legendary whirlpool was the inspiration for Edgar Allan Poe's classic tale "A Descent into the Maelstrom". In reality, it is a periodic and powerful current caused by tidal variations in the region. A decorative cartouche surrounds the title in the upper left.
Original outline colour
Very good condition..
Cartographer : JANVIER Jean
Jean or Robert Janvier (fl. 1746 - 1776) was a Paris based cartographer active in the mid to late 18th century. Janvier true first name is a matter of debate, as it appears as it often appears as either Jean or Robert. More commonly, Janvier simply signed his maps Signor Janvier. By the late 18th century Janvier seems to have been awarded the title of "Geographe Avec Privilege du Roi" and this designations appears on many of his latter maps. Janvier worked with many of the most prominent French, English and Italian map publishers of his day, including Faden, Lattre, Bonne, Santini, Zannoni, Delamarche, and Desnos.
subscribe to our newsletter