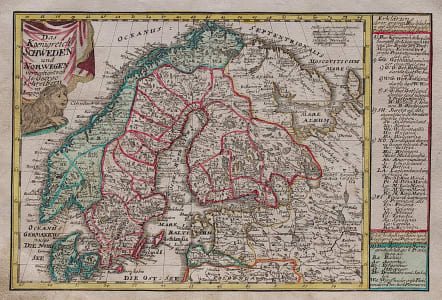 DAS KOENIGREICH SCHWEDEN UND NORWEGEN..
£95
Attractive map of the whole of Scandinavia ..detailed and withlegend down right hand side
cartouche
original colour
Very good condition.
Published in Schriber's Atlas Selectus.
Johann Georg Schreiber (*1676 - 1745)
Johann Georg Schreiber, a German cartographer and geographer, was born 1676 and lived in Leipzig. His only work was the "Atlas Selectus" published first 1740 and reissued 1749. He died in 1745.
subscribe to our newsletter