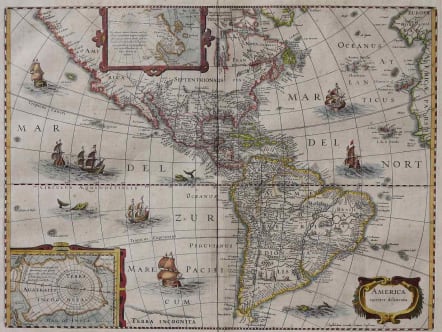 AMERICAS AMERICA NOVITER DELINEATA
£1450
This Americas was emulated by numerous cartographers and went through numerous editions. Originally issued by Jodocus Hondius in 1618 with carte-a-figures borders, it was derived from two earlier maps by Blaeu. The North Pole depicts Frobisher's theory of the Northwest Passage and the South Pole shows the long-held notion of the mythical southern continent. North America retains the peninsular California and the East Coast is beginning to take shape, although it still lacks detail in the mid-Atlantic region. In the Southwest the famous seven cities of Cibola appear on the banks of a large lake. In South America, there is a large inland sea and two engraved scenes, one of which details a cannibalistic feast. Two stylized insets of the two polar regions are enclosed in strapwork cartouches. The map is richly ornamented with a strapwork title cartouche, fleets of ships and sea monsters.
Shortly after Jodocus Hondius' death in 1629 the plated passed into the hands of his brother, Henricus. The borders were removed to facilitate the smaller format of the Atlas Novus that was published in partnership with his brother-in-law, Jan Jansson. This is state 5 with Jansson's imprint below the cartouche. French text on verso.
Excellent hand colour.
Mint condition
Cartographer : JANSSONIUS Johannes Jansson
Date : 1618 / 1641 Amsterdam
Johannes Janssonius Jr. (1588-1664) was the son of the bookseller and publisher, Johannes Janssonius of Arnhem (ie. Janssonius, the elder). The elder Janssonius of Arnhem acted as co-publisher, with Cornelis Claesz, of the early editions of Hondius' "Atlas Minor".
Janssonius Jr. married Jodocus Hondius' daughter Elisabeth in 1612. From about 1633 onwards Janssonius' name and imprint started appearing on the Mercator/Hondius "Atlas ..." After 1636 the name of the "Atlas ..." was changed to "Atlas Novus "with Janssonius being responsible, in the main, for its publication.
The "Atlas Novus" was expanded by Janssonius over the years of its publication in an attempt to rival Blaeu's "Atlas Maior" for size and quality. Janssonius' "Atlas Novus" eventually comprised six volumes with a nautical atlas and an atlas of the ancient world included. The maps were relatively similar format to those of Blaeu, although a difference in style is certainly discernible.
Janssonius also issued an "Atlas Maior" of his own, again in competition with Blaeu, but this was not issued as regularly as the Blaeu version. The "Atlas Maior" comprised some ten volumes - eleven if the Cellarius celestial volume is included.
subscribe to our newsletter