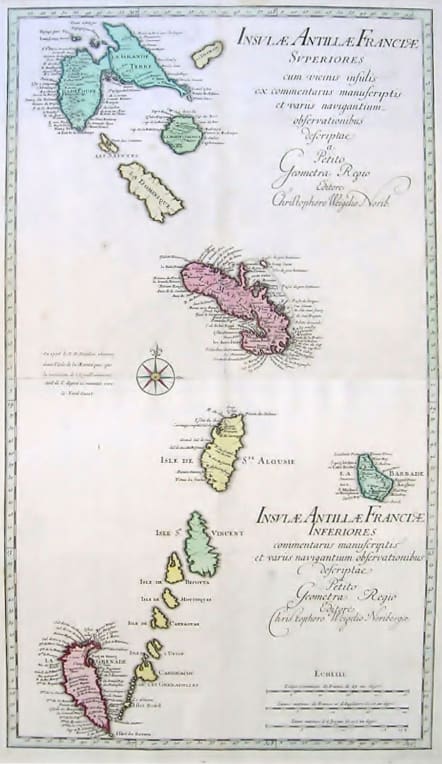 FRENCH WEST INDIES INSULAE ANTILLAE FRANCIAE SUPERIORES and INFERIORES
Sold
Very attractive map of the French West Indies Covers Guadeloupe,Martinique,Grenada,St Vincent,St Alousie and Barbados.Compass rose.
Important map with up to date information "based on written commentaries and the observations of various navigators.".Excellent full original colour.Very good condition.
Cartographer : WEIGEL Christoph
Christoph Weigel (c.1654-1725) and his relation Johann Weigel worked out of Nuremberg in the first half of the eighteenth century. Weigel is also known for a number of maps featuring in Faber's "Atlas Scholasticus" (1718) and also the "Schul- Und Reisen Atlas", produced in conjunction with JD Köhler.
Weigel was also involved with Köhler's "Descriptio Orbis Antiqui" published c.1720. This volume contained in total forty four well engraved maps of the ancient world, many decorated with vignettes illustrating coins, medallions and mythological scenes.
subscribe to our newsletter