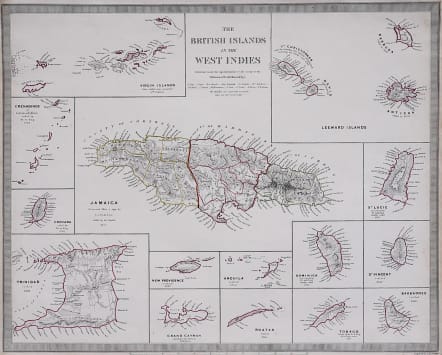 THE BRITISH ISLANDS OF THE WEST INDIES
Sold
Attractive detailed map of the British possessions in the West Indies at the height of British colonialism.
Fifteen maps on one sheet with a large map of Jamaica in the centre.., it covers the Islands of , Grenada, Trinidad,St. Lucie, St. Vincent, Barbados, Tobago, Dominica, Anguila, Roatan, Grand Cayman, New Providence, the Grenadines or Granadillos, the Virgin Islands and the Leeward Islands. The dates of discovery as well as the dates the islands were ceded or settled by the British. Shows rivers, bays, mountains, and other topographical features.
Original outline colour
Very good condition.
The Society For The Diffusion Of Useful Knowledge was founded by John, Earl Russell, and Henry Brougham, later Lord Chancellor of England in 1827. The Society's main purpose was to encourage universal literacy by publishing numbers of books of good quality that would be affordable to the poor. Perhaps the grandest of their publications was their atlas, originally entitled "Maps Of The Society For The Diffusion Of Useful Knowledge", first issued by Baldwin and Cradock, and then re-issued by other publishers, latterly Edward Stanford.
subscribe to our newsletter