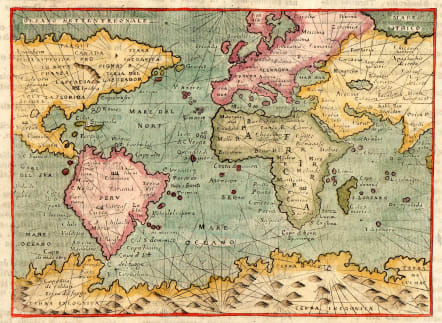 NAUTICAL WORLD CHART
£225
Attractive rare small world 'Navigare'
First appearing in Porcacchi's 'Isolario' in 1572, here this example is from 1713's Universus Terrarum Orbis Scriptorum Calamo Delineatus by Alphonsus Lasor à Varea,
It covers most of the world, excluding far eastern Asia and the western coast of North America; thus alluding to a connection between the two. The Terra Incognita landmass dominates the bottom of the map. The handsome map is filled with rhumb lines and the seas are fully stippled. Taken from a sheet
Excellent hand colour
Very good condition
Cartographer : Lasor A Varea
The map was published in a monumental work Universus terrarum orbis scriptorum calamo delineatus by Lasor a Varea in pagva in 1713.
subscribe to our newsletter