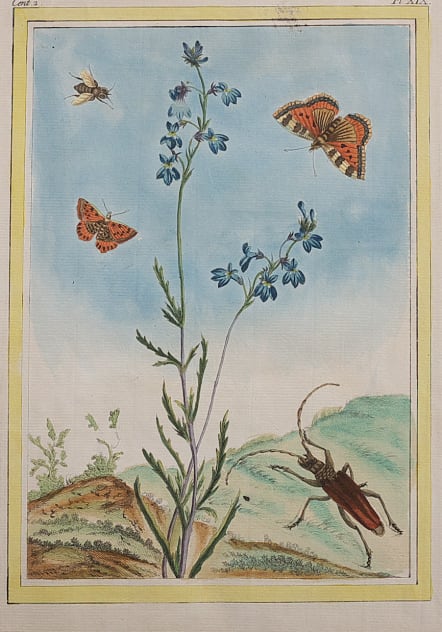 BUCHOZ BOTANICAL PL XIX
£195
Rare and beautiful original hand coloured Botanical prints.
These beautiful hand colored engravings have been selected from a French work entitled "Collection précieuse et enluminée des fleurs les plus belles et les plus curieuses...Partie Ière. Plantes de la Chine peintes dans le pays" published in Paris, Lacombe, in 1776.
A series of prints of unusual and beautiful flowers cultivated in gardens in China and Europe in the 18th century. They are from what is often considered the most innovative and decorative work by the prolific French author Pierre Joseph Buchoz. The composition and style of the works is unusual in the incorporation of numerous stylistic elements of Chinese art. The background landscapes and the inclusion of butterflies, insects and birds in particular often suggest the Chinese influence and some of the prints even have captions in Chinese characters below the yellow wash lined border. As such, this was the first European scientific botanical work to consistently incorporate the so called "Chinoiserie" style that became particularly in vogue during the Louis XV rococo period of the third quarter of the 18th century. Moreover, as stated by art historian Michael Sullivan, these engravings are "remarkable from the technical point of view" for the way in which "the engraver has not merely transmitted the line…but has managed to suggest, with the burin, the tone of Chinese watercolour. Only when we look carefully at these pictures do we realize that they are engraved and not drawn with the brush.
Very good condition.
subscribe to our newsletter