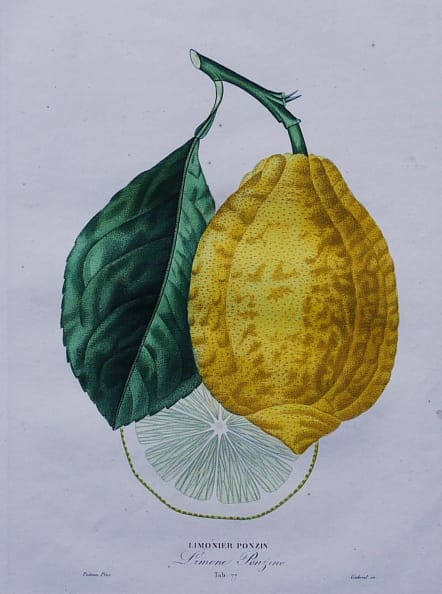 LEMONS LIMONIER PONZIN
£185
Beautiful originally hand coloured engravings. This is one of a number I have from this rare book..
These finely detailed, stipple engravings are from the work entitled Histoire Naturelle des Orangers, authored by Joseph Risso with engravings based on drawings by the renowned Pierre Poiteau. This first edition was published in Paris between 1818-1822.
Orangeries had begun developing in the late 17th century, thus creating interest in citrus varieties. Plenty of new cultivars and varieties had been developed and were included in the publishing of this work.
Risso was well-known as a naturalist while he worked in Nice, France. His interests reached beyond just botanicals and even has a dolphin named after him. Pierre Poiteau, a celebrated artist, provided the drawings from which these engravings were made. Poiteau had studied under the reknowned Pierre J. Redoute, and Poiteau's art reflected the beauty and artistic grace of Redoute's works.
Excellent condition.
Cartographer : Risso & Poiteau
subscribe to our newsletter