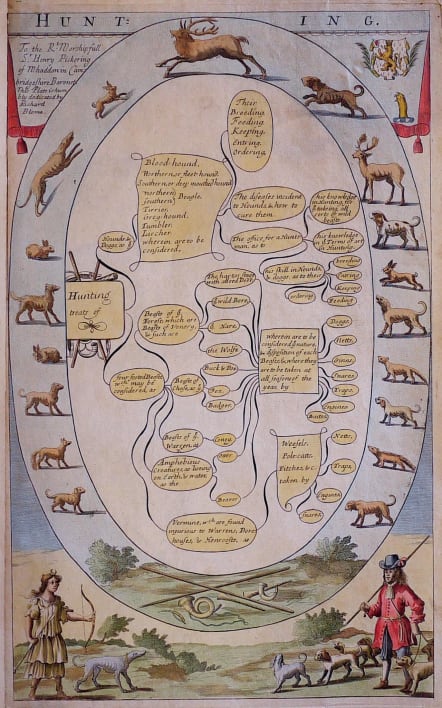 HUNTING TREATS OF
£150
Marvellous plate from 'The Gentlemans Recreation' by Richard Blome the engraving attributed to Roycroft.
This treatis on hunting divifes up the the type of animal to be hunted, the method of hunting and even time of season to carried out all displayed in a wonderful form of an early flow chart.
These plates are rather rare.
Left hand margin extended for framing not affecting printed surface.
Very good condition.
Richard Blome (1641-1705) was an English publisher and bookseller who flourished from about 1670 to 1705. He published two series of English county maps. The large series appeared in Blome's Britannia, or a Geographical Description of the Kingdomes of England, Scotland and Ireland, with each map measuring approximately 300 x 250mm. The smaller series, with the maps approximately 240 x 180mm, were published in Blome's Speed's Maps Epitomiz'd: or the Maps of the Counties of England.
Blome also issued a world atlas, the Geographical Description of the Four Parts of the World, in 1670, which was re-issued as the Cosmography and Geography, in 1682 and 1693. The maps from this atlas were Anglicized copies of Nicolas Sanson's work. Blome also issued a number of Bible maps, usually after Visscher.
subscribe to our newsletter