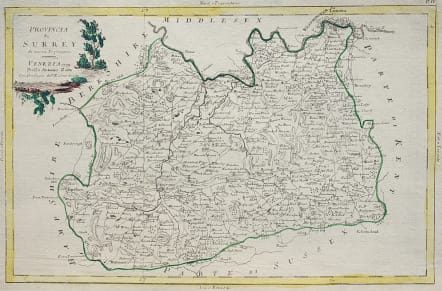 PROVINCIA DI SURREY
£125
Attractive Original hand coloured map of Surrey was one of only a handful of English county maps published by the Italian.. Zatta. Zatta's maps display a distinctly different style to the more frequently seen English and Dutch county maps of this and earlier periods. The map would have been published in "Atlante Novissimo" - a magnificent four volume atlas of the world.
Mint condition.
Cartographer : Zatta Antonio
ZATTA, Antonio
1757-1797
Antonio Zatta was a prolific Venetian printer and map publisher. He produced a large number of atlases and maps of high scientific and artistic quality.
His best know work was the Atlante Novissimo atlas published in 1779.
subscribe to our newsletter