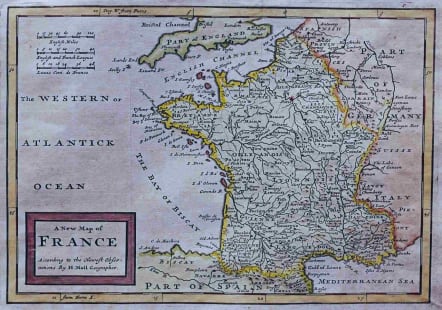 FRANCE A NEW MAP OF FRANCE ACCORDING TO THE NEWEST OBSERVATIONS
£65
Uncommon map of France in English From: Moll, Herman, Twenty four new and accurate maps of the several parts of Europe
All (except the last) New done, according to the latest Observations, by HERMAN MOLL, Geographer: / And very Useful to all that read the Publick Papers, or that have Mr. Echard's Gazetteer. / [rule] / SOLD by J. Nicholson at the King's-Arms in Little-Britain, Benj. Barker and Charles King in Westminster-Hall , Benj. Tooke at the Temple-Gate, / Fleet-Street, Hen. Clements at the Half-Moon in St. Paul's Church-Yard, R. Parker and Ralph Smith under the Royal-Exchange, and most Map-sellers. / Price 5 s. Coloured 6 s. Where may be had the Newest Map of Great-Britain, by H. Moll. Price 1s.
Pleasant age toning.
Very good condition.
Cartographer : MOLL Herman
Herman Moll (1654? - 1732) was an important 18th century map publisher and engraver based in London and Holland
He moved to London in 1680 where he worked as an engraver for Moses Pitt, among other London map publishers. Around the turn of the century, Moll set up his own shop where he produced a large corpus of work known for its high quality and decorative flair.
subscribe to our newsletter