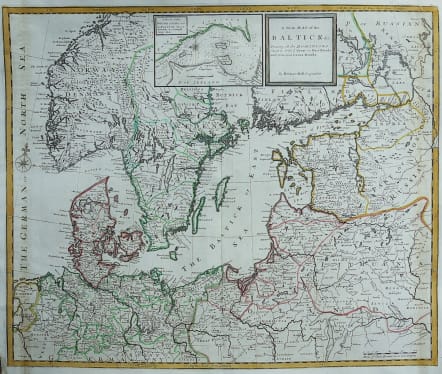 A NEW MAP OF THE BALTICK
£425
This rare and attractive map of northern Europe is filled with details of towns, rivers, roads, and the topography of the land. Political boundaries are shown and postal routes are noted. An inset at top depicts the entrance to the Baltic Sea between Denmark and Sweden. Decorated by a compass rose with fleur-de-lis and simple block-style title cartouche.
Original colour. Slight invisible reinforcing on fold otherwise very good condition for this uncommon map.
Cartographer : MOLL Herman
Herman Moll (1654? - 1732) was an important 18th century map publisher and engraver based in London and Holland
He moved to London in 1680 where he worked as an engraver for Moses Pitt, among other London map publishers. Around the turn of the century, Moll set up his own shop where he produced a large corpus of work known for its high quality and decorative flair.
subscribe to our newsletter