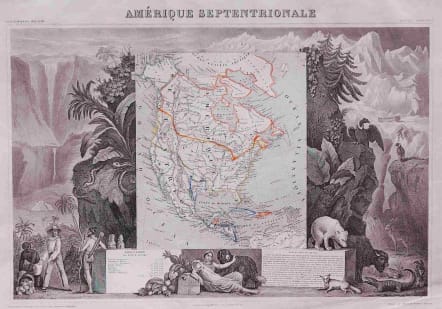 NORTH AMERICA AMERIQUE SEPTENTRIONALE
Sold
Lovely, decorative map with the Republic of Texas, and the United States extending into present-day Canada, Russia in control of Alaska, and Mexico's northern border according to the Treaty of 1819, (misprinted as 1810).
Includes the extension of Oregon territory well into British Columbia, reflecting the American claims that later led to the 54 40' dispute. Also, the Northwest Passage from Atlantic to Pacific is drawn as a navigable seaway.
Surrounded by beautifully engraved scenes of North and Central America including local animals, a ship stranded in the polar sea, and a Mayan Temple.
A very nice example with original outline color.
Victor Levasseur (1838–1854) was a French cartographer widely known for his distinctive decorative style. He produced numerous maps more admired for the artistic content of the scenes and data surrounding the map than for the detail of the map.
subscribe to our newsletter