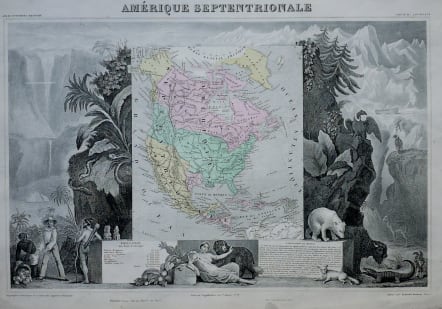 AMERIQUE SEPTENTRIONALE
£145
Intersting and very decorative map of North America. Although printed in 1860 it still depicts Texas as an Independent country with 200,000 population.
Also this is a last single edition of Levasseur's Atlas Universel Illustre printed to include the 3 new maps after the Unification of Italy and he took advatage of new printing methods to put block colour on the maps.
Very good condition.
Victor Levasseur (1838–1854) was a French cartographer widely known for his distinctive decorative style. He produced numerous maps more admired for the artistic content of the scenes and data surrounding the map than for the detail of the map.
subscribe to our newsletter