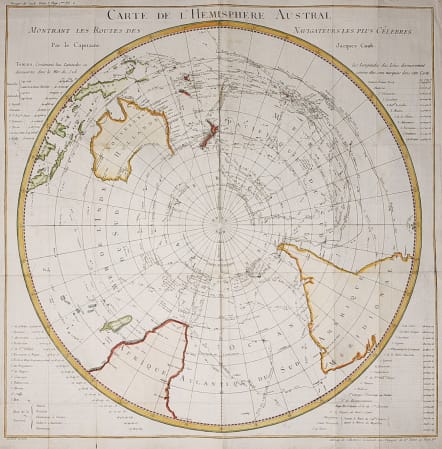 CARTE DE L'HEMISPHERE AUSTRAL
£350
Attractive chart of the South Pole etc.
By Cook/Benard, 1775 Carte de l`Hemisphere Austral Montrant les Routes des Navigateurs les plus Celebres par le Capitaine Jacques Cook
This scarce chart is a French edition of Cook`s voyage in the southern hemisphere that is drawn in a circular polar-projection. Lists beside the map provide details of discoveries and destinations in the southern hemisphere. The chart includes the routes of other explorers including Tasman, Dampierre, Carteret, Byron, Bougainville, Furneaux and others. The copper-engraved chart shows all of Australia (Nouvelle Hollande) with Tasmania attached to the mainland. There is good detail of the East Indies and the Celebes. An important chart for any collector of Antarctic material.
Folds as issued , flattened
Good hand colour
Very good condition
subscribe to our newsletter