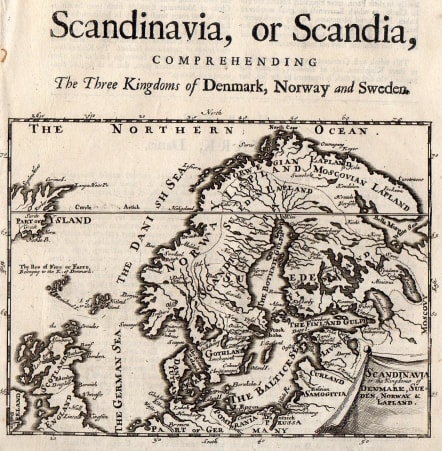 SCANDINAVIA OR SCANDIA COMPREHENDING THE THREE KINGDOMS OF DENMARK NORWAY AND SWEDEN
Sold
Afinely engraved and uncommon map of Scandinavia with Faro Islands and parts of Iceland and Scotland.
Depicting all of Scandinavia as it was at the end of the late 17th century. Here Sweden encompasses all of its present territory as well as all of Finland. Wonderfully crude, the contours of the regional are immediately recognizable, but more than a bit exagerrated. Notes major towns and cities, and shows the regional boundaries.
Very good condition.
Cartographer : MOLL Herman
Herman Moll (1654? - 1732) was an important 18th century map publisher and engraver based in London and Holland
He moved to London in 1680 where he worked as an engraver for Moses Pitt, among other London map publishers. Around the turn of the century, Moll set up his own shop where he produced a large corpus of work known for its high quality and decorative flair.
subscribe to our newsletter