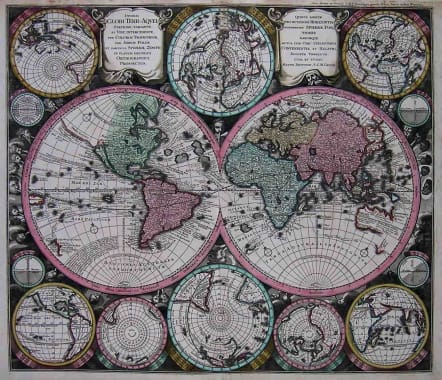 WORLD DIVERSI GLOBI TERR-AQUEI
Sold
Full Title: Diversi Globi Terr-Aquei, Statione Variante et Visu Intercendente, per Coluros Tropicorum, per Ambos Polos, et Particul. Sphaerae Zenith in Planum Delineati Orthographici Propectus.
This highly decorative double hemisphere map is typical of Seutter's ornate style and recalls the grand maps of the 16th century. The map, which comes from a set of five charts depicting the continents, first appeared in Seutter's Atlas Novus between 1728 and 1730. It depicts the world in two hemispheres surrounded by twelve globes and twenty-four allegorical wind heads. The smaller hemispherical maps, which depict polar views and various other projections, are an assortment of scientific perspectives of the Earth, including oblique views, which represent the sphericality of the planet. The center world maps are richly embellished although inaccurate in many of their projections. California appears as an island in five of the projections and the mapping of the North West coast is fantastically misshapen. Australia and New Zealand are incomplete and Japan is a bizarre shape and includes Terra Yedso. Considered one of Seutter's most attractive charts, this important map is a fascinating glimpse of history.
Full original colour,about the best example I have seen.
MINT condition.
Tooley, Maps and Map-Makers 27
SOLD
Cartographer : SEUTTER Family
Besides the Homanns, the other great German publishers of the eighteenth century were the Seutter family. Mattheus Seutter the elder (1678-1757) was apprenticed to Johann Baptist Homann in 1697 in Nuremberg, but left to settle in Augsburg where he established his own business publishing atlases, including the "Atlas Geographicus" (1725) and "Grosser Atlas" (circa 1735). Seutter's style was heavily influenced by Homann, with distinctive similarities appearing in his maps. He was joined in the business by his son, Albrecht (1722-1762), who continued the firm in partnership with Tobias Conrad Lotter (1717-1777) on his father's death.
subscribe to our newsletter